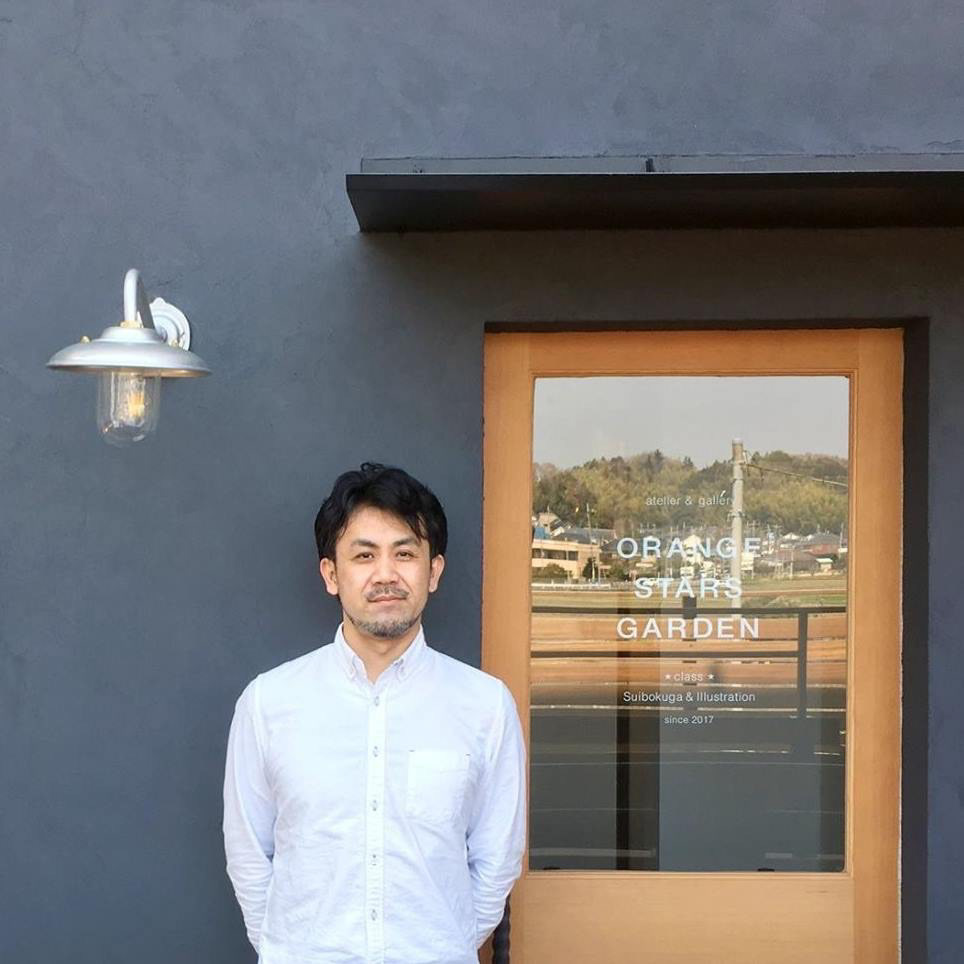 Tadashi Ura is an illustrator and an artist of "SUIBOKUGA" or ink-wash painting, which uses Japanese sumi inks (mainly black) on true Japanese washi paper. He was born in Nagasaki, Japan in 1972. He started his career in Tokyo from 1994 after graduated from  the Japan Design School in Kyushu branch. He became a freelance illustrator in 2002 and since 2007, started to receive awards in the commercial sector in Japan, which were the good design award, the TIAA award, also several Illustration or art's awards. He has created many hand-rendered or digital works in the past 25 years spanning for advertising, editorial, web, and more.
From 2006 to 2017, he had learned a Japanese ink and wash painting which is called "Suibokuga". After that he has been having own art class of Suibokuga which is named "sumi-e society SOUMOKU" in his studio or a culture school since 2017. 
His students can learn easily how to draw and more express of Suibokuga. And also he is often holding a workshop for beginners.
His inspiration comes from modern, everyday life, while his style is embedded in Japanese traditional artwork. In his free time, Tadashi likes spending time with his family - including his adorable daughters and fluffy (energetic) dog. He likes to go animal watching, and is fond of flowers, starry skies, forests at midnight, red clouds at sunset, and mountain top sunrises. Tadashi tries to express in his artwork all the beautiful things one cannot sense with the eyes alone.
He often has solo shows and live-painting exhibitions in both Japan and the USA. If you interested in Tadashi Ura's exhibition, class of Suibokuga, live painting... etc, please contact me.
水墨画家/イラストレーター

/
sumi-e society 奏墨・主宰
1972年長崎市出身、横浜市在住。水墨画家として国内外で作品展やライブパフォーマンスを多数行う一方、NYタイムズスクエアでの年末カウントダウンムービーの作画を3年連続で担当するなど、イラストレーター
(屋号:

gleamix
)
としても25年以上に渡り多くのクライアントワークを手掛けている。
2006年より水墨画家・土屋秋恆氏に師事。2017年に独立後、自身の水墨画会「sumi-e society 奏墨(そうもく)」を主宰。一気呵成に描く水墨画は、絵心の有無を問わず誰でも簡単に今ココの集中力を養い、気軽に楽しめるという信念のもと、自身のアトリエやカルチャースクールにて水墨画教室を開講している。全国総合水墨画展作家部門入賞、グッドデザイン賞、TIAA等、受賞多数。
○水墨画教室:毎月第1・3土曜 14〜16時、第2・4土曜 11〜13時
  体験教室をANDSTORYにて随時受付中です。
○イラスト教室:毎月第1、第3土曜 11〜13時
料金:1回2時間¥3000
教室は各人のペースで受講可能です。(
各回定員4名、完全予約制)
お子さんから大人の方まで、ご興味がありましたらお気軽にcontactからお問い合わせください。
atelier&gallery
ORANGE STARS GARDEN
場所:横浜市緑区長津田
田園都市線&JR長津田駅から徒歩7分、空が広くて緑豊かなところです。
ご連絡はcontactまで
※当サイトの作品画像を、プレゼンテーション等においてご提案下さる際は、その旨ご一報いただけ
ますようよろしくお願い致します。
2020.2.5~9「
Muy Edo 展
」メキシコ @
 the Selina hotel in downtown cdmx
2019.9.29「
未知/ 道 Path to the unknown
」live drawing 世田谷区北沢 @
閃 SEN スタジオ
2019.4.29「cotonowa」live drawing @京急百貨店
2018.8.2~9.2 個展「Across the Parallel Universe」福岡@TAGSTA
2017.10.8~10.15 墨閃会第五回社中展 in Shimokitazawa.
2017.8.5~6「松陰夏祭り」live drawing @松陰神社
2017.6.18" UQiYO no UTAGE" Live Drawing with UQiYO @CITAN
2017.5.1~7.1 個展「Daydream」@ORANGE STARS GARDEN
2016.12.5~12.10「レコードジャケット展」@ランドリーグラフィックスギャラリー
2016.11.21~11.27墨閃会第四回社中展 in Shimokitazawa.
2016.4.1~4.16 SEN Art & Creative Consulting KICK OFF Exihibition @コートヤードHIROO
2015.10.20~10.25 墨閃会第三回社中展 in Shimokitazawa
2015.10.18 糸島ART音楽堂 Live Drawing with UQiYO in Fukuoka
2015.9.3~9.30 個展「Moment」solo show @Hellion Gallery in Portland
2015.3.13~3.22 企画展"The EMA Show" 東京青山@hpgrpgallery
2015.3.5~3.7 企画展"The EMA Show" ポートランド@Hellion Gallery
2015.2.9~3.31 個展 東京銀座@ReMuu
2014.9.20~10.13 個展「UNDER SKIES OF HEAVEN」福岡@TAGSTA
2013.12.21 "MUSIC in LIVERARY" Live Drawing with UQiYO in Shibuya
2013.10.29~11.3 個展「BLESSING」
2013.10.2~10.7「和楽時代画展」東京銀座バートックギャラリー
2013.8.27~9.1 墨閃会第一回教室展 2013.8 第18回総合水墨画展@国立新美術館
2013. 7.20-21 [SNIFF OUT 2013] 個展ブース出展 インテックス大阪
2013.6.7 "logram relaunch party" Live Drawing in Daikanyama
2013.3.7~3.31 "Transparent Truths" Compound Gallery in Portland
2012.11.4 Live Drawing in Iwate
2012.4.3~4.8「和楽時代画展」東京銀座バートックギャラリー
2011.10.21 Live Drawing in Fukuoka
2011.10.6 Live Drawing in Portland
2011.10.6~10.30 Compound Gallery [JAPANISM] 米国ポートランド
2011.8 Images 35 in London
2011.4.17 Live Drawing in Futako Tamagawa
2010.12.4 Live Drawing in Shibuya
2010. 11.30~12.5 初個展「素・観」 東京渋谷
2008.11.5~11.16 SOSEKI展 東京ものづくり学校
2007 null*in Tokyo / Singapore
2006 null*in Sapporo / null*in Osaka / Nagoya / Tokyo
2005 null*in Kyoto / null*in Shibuya
○2010年10月 Images 35入選
「Association of Illustrators' Images 35 competition -Best of British illustration 2011-」
- 2007年度 グッドデザイン賞 コミュニケーションデザイン部門入賞
- 2007年度 グッドデザイン賞 コミュニケーションデザイン部門入賞
○Economics - The art of sustainable business -
- 2008年度 IAAJ 日本BtoB広告賞 特別賞受賞
○Herman Miller - Miller chair site
- 2004年度 Good Design Award 受賞
○beacon communications k.k corporate site
- 2004年度 Good Design Award 受賞